On a trip to Wenatchee, Washington I decided to do some exploring in the Downtown area. Wenatchee is situated in the dry and productive Columbia River valley, with a similar look to my home stomping grounds of Kamloops, BC. Being a continuation of the Canadian Okanagan valley, fruit orchards and vineyards abound. 
Driving into the central business district you are welcomed to the "Apple Capital of the World" with a tasteful gateway sign. The main corridor however is overpopulated with gigantic business signs, and a veritable neon orchard. Thankfully the city has put the brakes on this practice, not allowing any new billboard-size signage. Providing incentives to remove current ones might be a progressive future step.  
A few of the signs are kind of cool, projecting a real retro vibe, one which is ubiquitous throughout the Downtown core. This interesting 50's feel, mixed with fabulous heritage brick buildings and splashes of modern architecture, such as the Arts center, embodies the Downtown Wenatchee brand.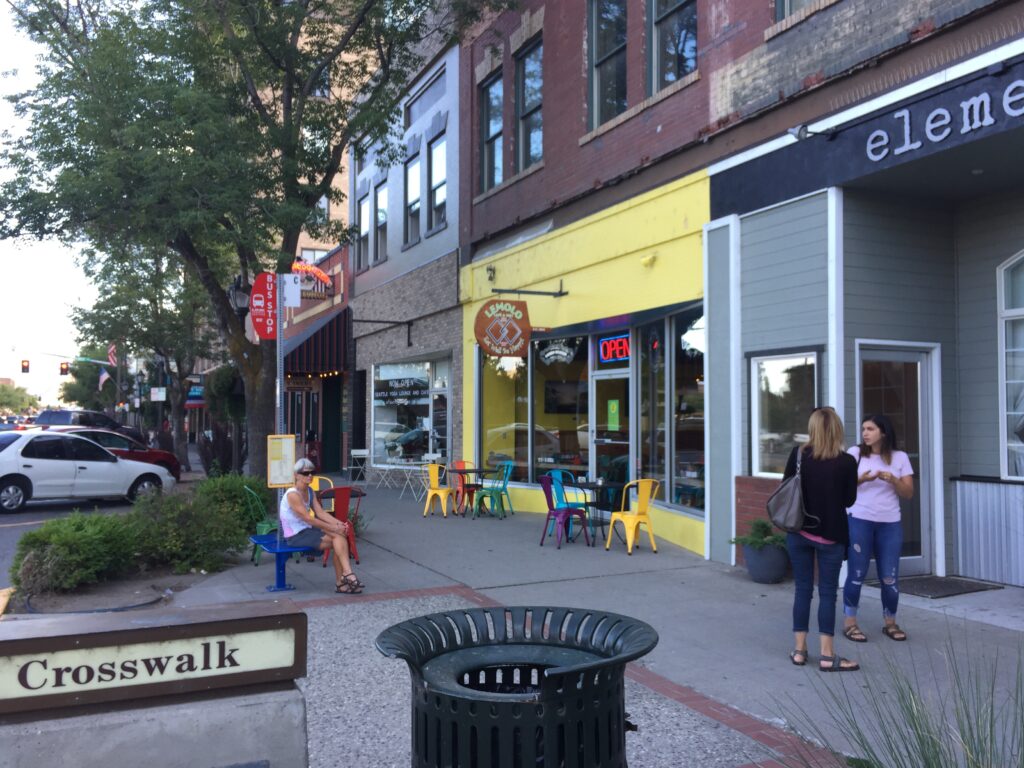 Purposeful Design Elements 
The main drag is a super wide street, which they have made the best of. At each end of the retail core they installed traffic calming islands and banned transport trucks. Within this area the sidewalks are wide enough for business use, pedestrians and more. There is angled parking on both sides of the street (this creates 25% more parking by the way) and 2 lanes of (2-way) traffic. Like I said – a super wide street!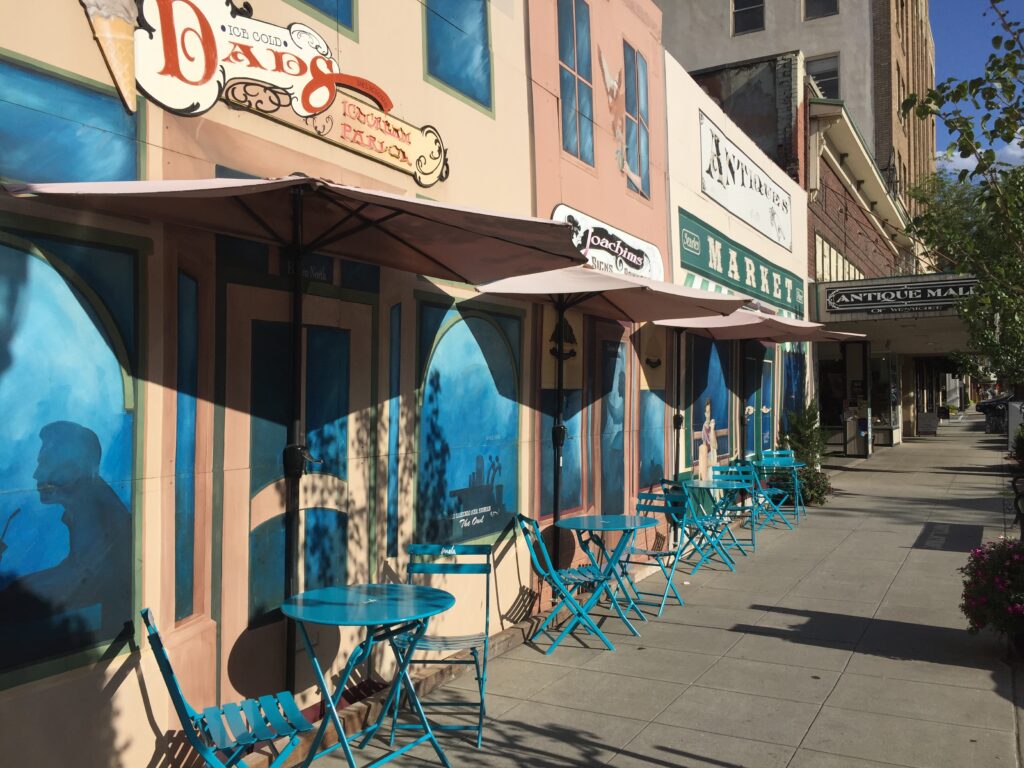 They appear to have an open-minded view on sidewalk use regulations. Some restaurants have installed permanent patios complete with traffic dividers, greenery and lighting. Retail shops utilize sidewalks for displays, merchandise and informal seating. Casual coffee shops put out colourful bistro sets, unencumbered by fencing. It all feels very organic and friendly; just how it should.
There is a rather famous public market just a short hop from the Main Street. Pybus Market is housed in a massive old former industrial steel plant building, situated next to the riverfront. The area along the river has undergone reclamation and transformation; creating gorgeous public spaces and new residential infill. A key ingredient for a successful downtown – places for people to live and play!  
The design of this development focuses on public enjoyment; the ten-mile, paved Apple Capital Loop Trail wraps both sides of the river connected by two bridges. There are many interesting and restful stops of interest along the way; picnic areas, beaches, streams, boat launch and of course the public market. 
Park your bike and get refreshed with iced tea and gelato, or craft beer and a burger on the water misted patio.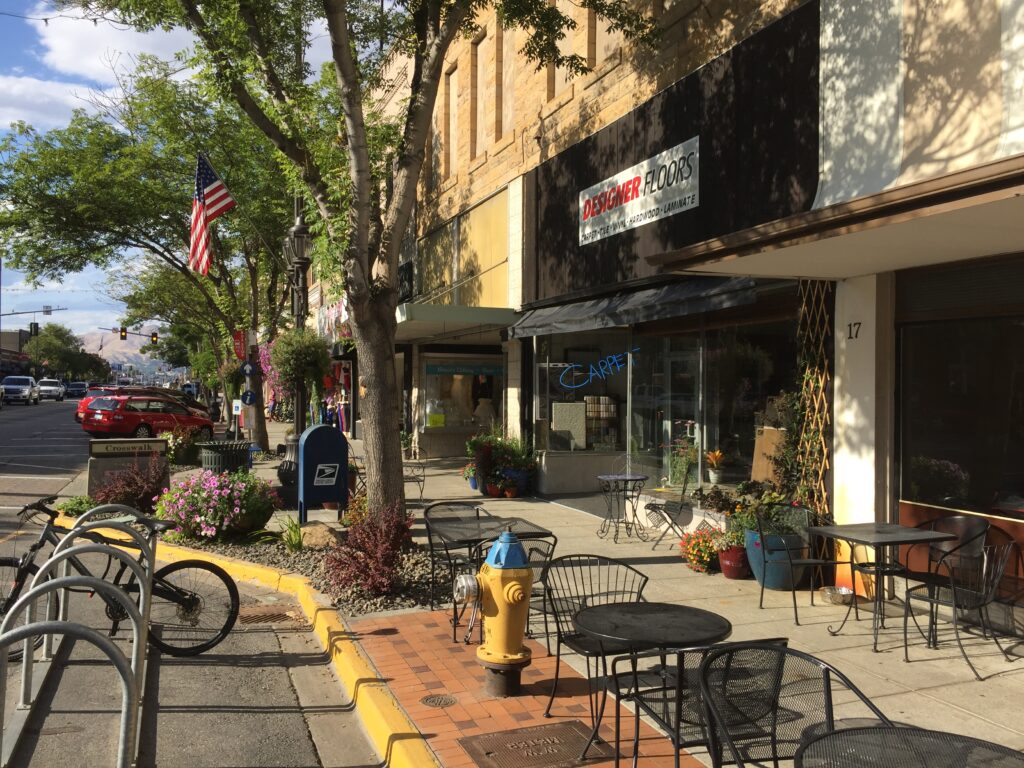 The Vibe 
Back wandering around on the main street, I discovered many positive attributes. The big, beautiful brick buildings are well maintained, and many have been repurposed. The varied business mix can keep you interested for hours. Everything from antiques and second-hand stores to trendy home décor and gift shops.  
Essentials like sporting goods, pet shops and a variety of restaurants with different ethnicities and price ranges. Wenatchee has a prominent Latino culture, adding to the diversity of businesses and the opportunity for excellent Mexican food!   
All these elements contribute to a unique vibe downtown. Respecting historic, loving the retro and embracing infusions of modern growth.  
Future Potential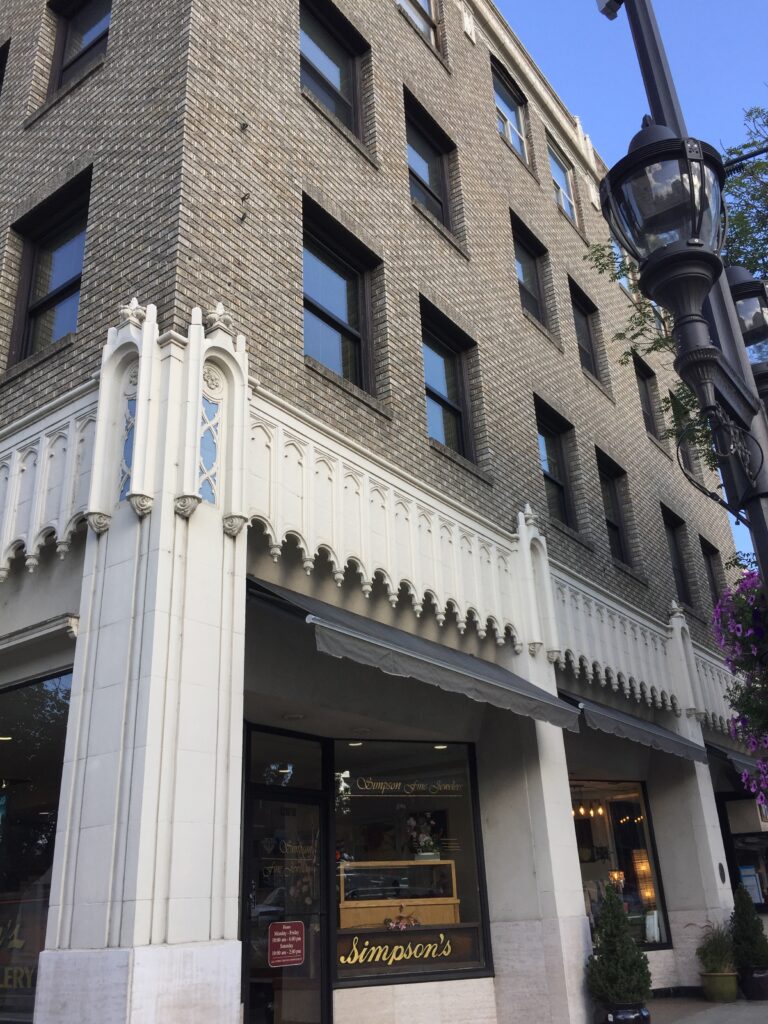 I believe the future looks bright for Downtown Wenatchee. New businesses are moving in, including the 10,000 square foot Mercantile coworking and event space in the historic Ellis Ford building. (Reuse, repurpose!).  
There are still several other large, old buildings sitting vacant, forming dead spaces on the street. To their credit though, one of these has been very creatively livened up with a mural depicting several small, quaint store fronts painted on the building façade, visually illustrating future possibilities. The neighbouring business joined the effort, placing bistro table seating along the muralled "store fronts".  
The opportunity with the buildings would be to ingeniously renovate these rough gems, creating multiple compact spaces for lease. The more small, independent businesses in the downtown the better.  
Because the residential development, performing arts center and businesses like the Mercantile are bringing more people downtown, the area could really benefit from more places for people to hang out. Think coffee shops, art activity spaces and other reasons to linger, such as street activations and place management strategies.  
By looking closely, you can tell that the foundations have been laid, investments are there; in my opinion Downtown Wenatchee is poised on the edge of success!