Successful Pedestrian Malls
Pedestrianized streets work extremely well if done the right way, in the right place at the right time.  After strolling streets in many cities, it is apparent that the three key elements required are: design, critical mass of pedestrians and a diverse mix of engaged businesses.
Design
The best streets tend to be narrow and interesting.
Inside the historic walled city of Campeche, Mexico the rough cobbled streets are just barely wide enough for two cars to pass, add any substantial sidewalk and you are down to one and a half car width. Not great by traffic engineer standards, but excellent for conversion to pedestrian-only areas. They have done this with a prominent street that runs from the waterfront promenade to the outermost rampart, and is lined with restaurants, shops and galleries. These businesses spill out onto the street, al fresco dining filling the centre of the street, pedestrians strolling close to the shop fronts. Locals and international tourists mingle, eat, drink and shop for local treasures in a relaxed atmosphere, literally walking through history. It has all the key elements for success. They also have the largest and cheapest mugs of beer and Pina Coladas we discovered through Southern Mexico; that never hurts!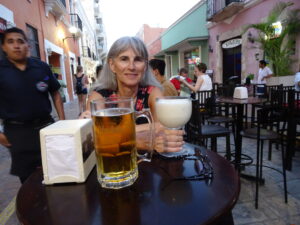 Wider streets can work but it means you need more people and additional design features. If you stand on a street that is dedicated to pedestrians, and look down the length of it, you must feel the vibrancy. If it is not busy and interesting, the effect is the absolute opposite of what you want.
Critical mass of people is when the entire street has the feel of a busy sidewalk peppered with patios and people and product.
Stephen Avenue in Downtown Calgary is a prime example. They have eliminated the long straight feel of a traffic corridor with overhead walkways and impressive architectural art installations that hug the street. These large white sculptures are referred to as the 'galleria trees'. In addition to programmable lighting, they are equipped with speakers for music. The Stephen Avenue mall is managed by Downtown Calgary. It is closed to vehicles from 6am to 6pm daily and sees 5,000 to 10,000 people per hour in peak times.
Calgary's progressive regulations allow patio "pods" that are separated from the building front – even the ones that serve liquor – and they make it work, servers simply navigate across the sidewalk to deliver the goods to patrons. Cities that don't allow this should take note!
Business Mix
San Cristobal de las Casas, nestled in the central highlands of southern Mexico, is a beautiful old colonial city with a gem of a historic central core. A network of pedestrian streets connects the central Zocalo to the maze of markets and residential areas. The streets are narrow, cobblestoned corridors alive with outdoor dining, interesting shopping boutiques, entertaining buskers, and plenty of vendors hawking everything from local crafts to housewares. This is an entrepreneurial melting pot. Between the brick and mortar stores, artisans, restaurants and street pop-ups, there is a diverse business mix that ensures everyone finds something worth stopping for.
You can also experience the theory of customer engagement in action. Every restaurant has not just a menu next to their patio, but a host that chats you up and invites you in. On a slow day with fewer people on the street, it can almost feel like running a gauntlet through the restaurant hawkers. But I chose to see it as an excellent example of street activation and engaging the clients. Never boring, never lonely. We enjoyed visiting with many interesting people, both local and foreign.
Downtown Charlottetown has a quaint pedestrian mall called Victoria Row that runs off the main drag. The business mix here is atypical, as one side is dominated by the arts centre, complimented by some of the best local boutiques, pubs, galleries and eateries. Landscaping and funky design elements like orange tree balls and colourful picnic tables sporting checker boards, combined with the super friendly maritime attitude of the locals made the experience very charming.
Innovation
As you can see not all pedestrian malls have to follow the same formula, Victoria Row is basically a side street and very short, Stephen Ave is Alberta sized (large!) but well designed and managed. In the innovation capital of San Francisco is another completely different approach. Amid the skyscrapers of the buzzing financial district I happened upon a strip of outdoor cafes in a back alley, well side alley really and very clean! The cafes that front the alley are allowed to take it over for several hours during the lunch rush. Deliveries happen before and after, and hungry patrons can enjoy lunch in a quiet oasis in the shade of giants.
That is what it comes down to – the experience! This is achieved If you have the three key elements of design, business mix and people. Then you manage it properly and voila: a destination worthy experience!